One Minute Site Manifesto
The end of Corporate WebSite as usual



| | | |
| --- | --- | --- |
| | & | |

Oliva & Toscani's Manifesto, famous in Italy, is now available in English
on this site, but the international authorities could black list it any minute
:-((

Oliva e Toscani were arrested for outrage toward Web providers and are doing time
for having tried to subvert the system through the distribution of the Manifesto.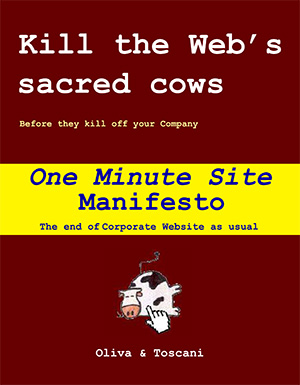 Hurry up and download your copy (it's free!).
It is with statements like these that Oliva & Toscani gained their infamy:


<< Web providers never told you that your Web Site pages force the visitor to turn into an olympic frog... >>


And don't forget that your comments are vital for Oliva & Toscani:
they will help them face the long sleepless nights without internet.





WilsonWeb.com:
"Irreverent, funny, and practical approach
to small business webpages".
Seth Godin (the author of Permission Marketing):
"Your pdf is brilliant! I feel like I wrote it."

*TO ADHERE TO THE ONE MINUTE SITE MANIFESTO*

IF you are a Web USER tired of the Company Sites as usual...
IF your PMI has been replaced by the Company Site as usual...
then adhere to the Manifesto.

Many have already done it on the Italian site.
If you want to join this REVOLUTION e-mail us and...
don't forget to tell us who you are.






***

Any and all links to this site are free and welcome.
If you want to reproduce, even in part, the content of the book send us an email.
go to original italian version at 1minutesite.com
© Oliva & Toscani 2002-2004